Most military children go to public schools, but a small percentage — approximately 82,000 in all — attend schools run by the Department of Defense Education Activity, commonly referred to as DoD schools.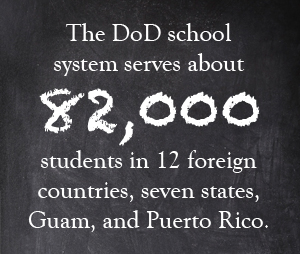 There are 180 of them across the United States and scattered around the world. These schools are little known to the public, but they may have important lessons to offer for the education system as a whole.
More than 40 of these Department of Defense schools have been shuttered over the past eight years. One of the main reasons is that U.S. bases built overseas during the Cold War have been closed.
An investigative report by The Center for Public Integrity found three out of every four school buildings need extensive renovation or are beyond repair.
Despite these challenges, Department of Defense schools boast high test scores, have high graduation rates and are very popular with military families who make use of them. Many choose to live on base just so their children can attend these schools.
On the 2013 National Assessment of Educational Progress test, often referred to as the nation's report card, DoD schools did better on average than public schools on both reading and math tests for fourth and eighth graders. And in reading, DoD students in both grades score at the same level as the top performing states in the nation.
So how do they do it?
Click here to read the full article:
http://breakingground.wamu.org/department-of-defense-schools/